Find Your Cabinets
Don't just imagine your new cabinets—see them in our showroom. Our staff is here to answer your cabinet questions and help you find the perfect fit for your home.
Getting Started
Things to consider when choosing your cabinets: materials, finishes & colors, styles, and customization. Our team will help you find the look, feel, and function that is right for you and your home.
Styles That Fit You
Sleek or rustic, flashy or minimalist – the style of the cabinet you select sets the stage. We're here to help you find the style that makes you feel most at home.
Material Matters
No two materials are alike. Choosing the best material for your home involves several considerations, from aesthetics to performance. We will help you find the perfect cabinet material for your space.
Maple
Cherry
Rustic Alder
Oak
Hickory
Rustic Hickory
Foil
Finishes & Colors
That Last
Make a lasting statement with an awesome finish. Your finish can enhance the unique features of your materials, provide extra dimension, or be completely customized to match your look.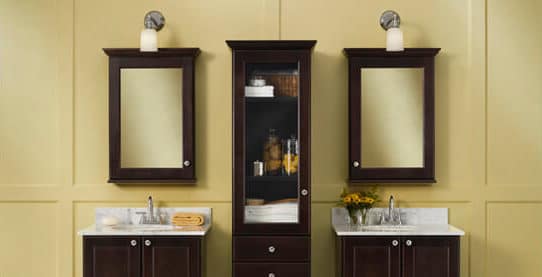 You've found what you want—now it's time to truly make it yours. Select from a number of customizable options to bring your cabinets to life.
---
Storage and Accessories
Decorative Doors
Mirrors
Base Options